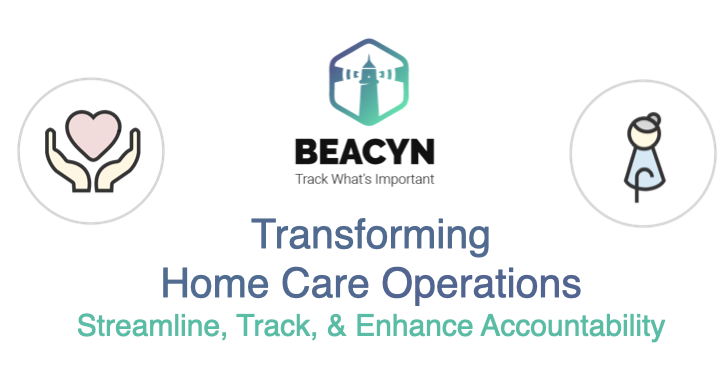 Transforming Home Care Operations with Beacyn: Streamline, Track, and Enhance Accountability
Introduction:
In the dynamic and demanding field of home care, managing operations efficiently while ensuring accountability can be a significant challenge. However, with the right tools and technologies, home care providers can streamline their processes and elevate the quality of care they deliver. That's where Beacyn comes in – a groundbreaking solution designed to transform home care operations.
Industry Challenges:
Managing a home care business comes with its share of challenges. Providers often struggle with:
Tracking and managing service provider activities effectively
Ensuring accountability and accurate record-keeping of service provider attendance
Maintaining efficient operations while handling scheduling and coordination
Responding promptly to changes in schedules and optimizing routes
Overcoming these challenges is crucial to enhance client satisfaction and improve overall business performance.
Introducing Beacyn:
Beacyn is a comprehensive solution designed specifically for the home care industry. It offers a range of powerful features to address the unique needs of home care providers, enabling them to streamline their operations and deliver exceptional care to their clients.
Key Features and Benefits Beacyn empowers home care providers with essential tools for success, including:
Real-time service provider tracking: Stay updated with the location and movement of service providers, optimize scheduling, and ensure timely service delivery.
Check-in and check-out verification: Accurately record service provider attendance, track time spent with clients, and streamline billing processes.
Enhanced accountability: Foster a culture of accountability among service providers, leading to improved punctuality, reliability, and service quality.
Customization and scalability: Tailor Beacyn to your unique needs, whether you operate a small team or multiple locations.
Implementing Beacyn can bring a range of benefits to home care providers, such as increased operational efficiency, improved coordination, enhanced client satisfaction, and higher caregiver performance.
Call to Action:
Experience the transformative power of Beacyn for your home care business. Request a personalized demo today to see firsthand how Beacyn can streamline your operations, enhance accountability, and elevate the quality of care you provide to your clients. Contact our team at [your contact information] or visit our website to learn more.
Conclusion:
In a rapidly evolving home care industry, embracing innovative solutions like Beacyn is key to staying ahead. With its powerful features, Beacyn empowers home care providers to overcome industry challenges, optimize their operations, and deliver outstanding care to their clients. Take the next step towards transforming your home care business with Beacyn.